Education and Diversity Working Group
Mission of the EDWG
The mission of the EDWG is to provide an environment and programs in which diverse people (in terms of career stage, sector, ethnicity, culture) may collaboratively learn about the impacts of extreme events on urban areas and how to promote the resilience of urban SETS infrastructure. The EDWG's role is to ensure all working groups infuse inclusivity and trust-based collaboration in every endeavor.
Justice, Equity, Diversity, and Inclusion
Environmental equity is a theme carried through the research of the 10 diverse city locations throughout the UREx SRN and 21st century resilient urban-infrastructure transitions are highlighted through multi-disciplinary, multi-sector, and multi-cultural research. The network has over 180 research participants from diverse backgrounds, who partner with city practitioners, all contributing to this UREx theme. UREx SRN demographic data is consistent with the representation provided by the National Science Foundation (NSF) for women and minorities.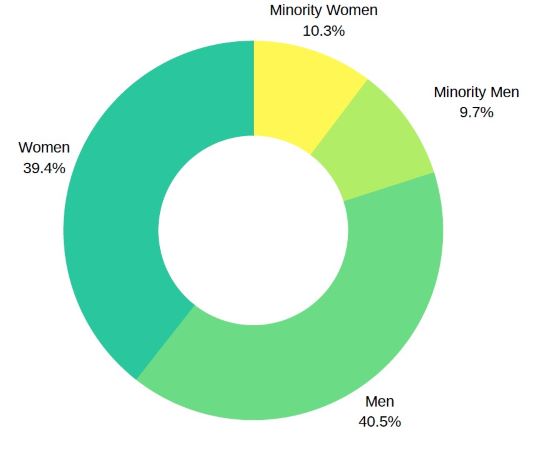 The Education and Diversity Working Group (EDWG) implements continuous training for UREx fellows in order to encourage diversity of membership in these pioneering initiatives that integrate various disciplines, approaches, backgrounds, and cultures.
The JEDI task force hosted plenary activities with diverse groups of researchers, city and non-government officials, and artists at the annual All Hands Meetings:
La Red Poetry Slam 2018
Community Engagement in Baltimore City 2019
Science Outside the Lab (SOtL) training workshops in 2017 and 2018 provided graduate fellows with the opportunity for cross-cultural communication skill development and cultural competency, heightening awareness of diversity sensitivity in scientific research and communication, and fostering cross-disciplinary collaboration skills.
A Diversity and Inclusion workshop was held in 2018 for dialogue on the network goal to increase diverse groups of people in the knowledge implementation cycle. Postdoc and graduate fellows discussed their perception of the intended goal, instances where they had seen progress made toward the goal, and what they thought could be done to further meet the goal. Revisions to the UREx SRN Logic Model were made as a result.
Inclusion of K-12, young scientists in science communication
SRN Best Practices
The UREx SRN is a strong advocate for the co-production of knowledge through collaboration and the publication of network findings. Since its inception, the UREx SRN has produced international, multi-institutional, and cross-sectoral works by various members in the network. A multi-modal mentorship model also developed organically via network research of collaborators and research fellows. Guidelines for best practices in collaboration, publication, and participation in mentorship relations are provided for guidance through each of these areas and can be found on the SRN Best Practices web page.
Workshops and Projects
Educational programs are in place to increase the capacity of next generations scientists to conduct and communicate on collaborative, interdisciplinary scientific research. These activities are designed to advance co-learning and collaboration among urban decision makers, scientists, and students across the network of cities on urban resilience to climate change.
Graduate Grants
Design Studios – Florida International University and Arizona State University
Science Communications training: New York and Baltimore All Hands
RULA IRES: Resilient Urban Latin America: International Research Experience for Students
Urban Resilience Reading Group (URRG) – Led by fellows
Research Experience for Undergraduates Summer Program – REU
(pictured below)
EDWG Evaluation
The ASU University Office of Evaluation and Educational Effectiveness (UOEEE) partners with the EDWG to evaluate various network activities and impacts on network participants in order to assess, monitor, and report on various aspects of the UREx SRN's effectiveness. Annual EDWG reports and various project briefings are available for review.